Tascosa High School


Class of 1969
What's New


Not a member?
JOIN HERE
Find and click on your name. Happy Birthday, young lady. Also my condolences for your family's loss. Best wishes.
Posted on: Sep 19, 2019 at 8:34 PM
How did Baucum get 8 kids and how does anyone afford to raise them in beautiful Newport Beach? wow Hey Kelley - would have lived to see you at the reunion - hope you & your family are well
Where's those photos you told me you were going to scan?--haha I am only now completing mine.
Posted on: Sep 17, 2019 at 1:23 AM
I [vaguely] remember some wicked poker games at your house!! I don't think I played, but I hung out. ALSO when you got the Challenger!! I still think of that when I see 'Fast & Furious' reruns.
rebel man -
Who wants your pic made with this Rebel? He will be at Abuelo's More…on Saturday night!

He also made an appearance at Glenna Curl Denton's house during the Tascosa Homecoming Parade last weekend. Here's what Glenna said:

Guys..we were the HIT of the neighborhood...kids started yelling"real Rebel"....yay '69!!! It was hilarious..they threw so much candy!!!! The football coach came up and had his picture made!!!!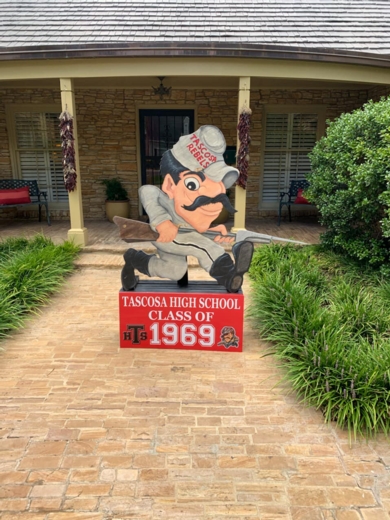 saturday morning -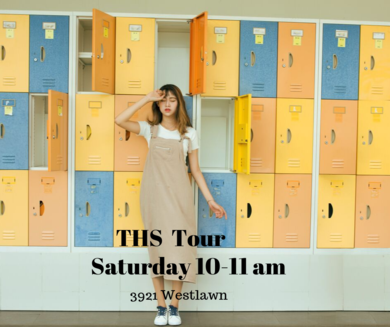 More…/>
Donuts and coffee in the commons. (Miss Willie would have a conniption fit!?? Dress casual but if you're wearing a skirt make sure it passes the yardstick test. And that your hair doesn't touch your collar, guys!?? (I lied. Come as you are) You can pick up your name tag if you missed Friday night at Crush. Remember to wear your name tag if you picked it up on Friday. There won't be any replacements except for paper spouse and guest tags!! Those suckers took a ton of work by that committee to make!!
crush -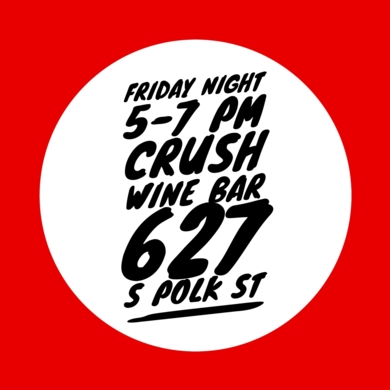 More…/>
Posted on: Sep 17, 2019 at 10:49 AM
Who would know that Mama Honiker's biology lab would be the catalyst for you to become a pharmacology titan and master of international trade. At least you got out before this opioid crisis. What greed that is!

There is a Shipley doughnut store near my house and I usually think about your midnight runs to get the goods. Who can't resist that? And whoever made that red apron you gave me sure had me figured out--yep, gay as a goose! How difficult was that?

Good luck and carry on! I am saddened to see Steve's name here but not surprised. Most of my friends died in the plague of the 80s&90s. We became good friends in Austin working in the drafting dept of an environmental engr firm. This was immediately prior to the Clean Air & Water Acts of 1975 that Trump is rolling back now. OMG, how unbelievable. It was also before collating copy machines and the firm produced huge reports that we collated manually by 'dancing' around the conference table laying out the pages in order.
Last I heard Steve and his lover [no marriage equality until 2015} transferred to the Atlanta office and adopted a Black boy. We lost touch after that.
I first knew Steve when we were in JrHi and we rode the city bus to AHS for typing lessons in summer school. It is a skill I still have not done well with and that makes it really tough as a college prof as I 'hunt & peck' here.
Steve and my boyfriend threw me a surprise birthday party in our own apartment and I had no idea. That is the most surprised, speechless, and loved I have ever been or felt by anyone.
It is odd this message has custom formatting and it is no where else. It is as funky has the software used by HCC.
Posted on: Sep 16, 2019 at 4:53 PM
Cathy~~ThanX so much to you and the Committee for organizing this event, even though I am not coming. I have done similar events and know how flaky people can be. The website is a great idea despite its low level of participation. I enjoyed the map because I use GIS mapping to analyze voter/election data. it is enormously powerful. Yall have fun!
I don't really remember you from HS, but I did see on the news and recognized your name. I thought at least someone from Ama made it big. Where is quality local journalism now when we need it most?
It is disappointing that more people are not contributing to the site with text or photos. There is a serious lack of detail for those who did; and unfortunately no humor or reference to our current plight. I know I cannot be the only one trying to navigate the frustration of the "doughnut hole" to get diabetes meds. haha

I do not understand why no one posts captions to their photos. This site is kinda tricky, but not that difficult. I taught 3 different Online classes for 5 yrs at the college using 3 different platforms, so I got pretty good with technology. I also use GIS mapping to analyze election and voter data, so I have a bit of data processing under my belt too.